I'm now about eight months from being on the John Muir Trail.  I have had a really hard time keeping the blog up to date, because I'm not sure what the likelihood of us getting permits is.  It's an easy excuse to not train when I have nothing forcing me to.  Permit submission is upcoming, though!  I though I'd dedicate a post to the permitting process for the JMT for 2016.  Of note – I'm talking in this post only about southbound permits, because 80 to 90 percent of hikers move from north to south.
A Single* Permit
One of the wonderful things about the John Muir Trail that makes it not terrible to plan is that even though it goes through several national parks and wilderness areas, you only need a single permit to hike the trail in its entirety, including climbing Mount Whitney, provided you stay on the John Muir Trail for the entirety of your trip.  You are allowed to leave the JMT for 24 hours to resupply, but if you stay off trail for more than that, you will need a second permit.  As you'll see from below, I don't think the headache is worth it.
Why the asterisk?  If you want to hike Half Dome as a side trip, you will need a separate permit that you can apply for alongside your JMT permit.
Why Quotas?
The John Muir Trail is one of the most popular long trails in the US.  It starts in Yosemite National Park, which is the third most visited national park in the United States.  Most visitors never stray into the backcountry to camp, but even if 1 percent do, that would be over 30,000 people annually.  To ensure that the wilderness actually stays wilderness, the parks and forests in the area limit the number of groups that can enter the backcountry.
The popularity of the John Muir Trail, like other American long trails, has exploded in the past decade.  More and more people every year are backpacking, including people like me.  I wasn't raised in a family of outdoorsy people, but I joined in my husband's hobby after deciding I wanted to spend more time away from my computer and outside.
In addition to limits on the number of people who can enter a specific trailhead, starting in February of 2015, Yosemite added an additional limitation on John Muir Trail permits.  To discourage hikers who did not receive their ideal entry permit from taking a less traditional route out of Yosemite and adding to traffic on the JMT, Yosemite now limits the number of hikers that can exit the park at Donohue Pass to 45 people a day.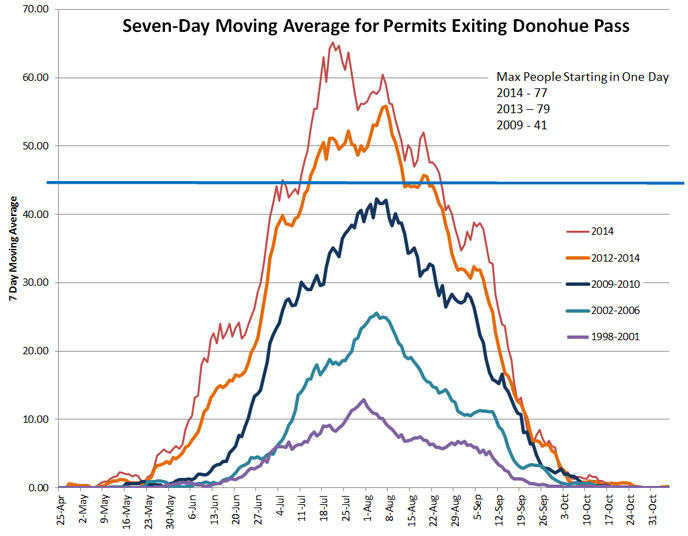 Though the image above doesn't show it, in 2015, early season permit requests were up 200% over 2014.
Yosemite Permits
Yosemite contains the first 35 or so miles of the John Muir Trail, so nearly every hiker chooses to start there instead of cutting off a quarter of the trail.  Yosemite's permit system works as follows:
45 total wilderness permits with an exit through Donohue Pass are given out for any given day

35 of these are reservable in advance

20 of these permits start in the Yellowstone Valley area
15 of these permits start at Lyell Canyon

10 permits are held at Lyell Canyon for walk ups

You can reserve permits 24 weeks (or 168 days) in advance of your departure date via fax, phone, or mail.
The permits are extremely inexpensive – $5 base plus $5 per person on your permit, plus $8 per permit if you are hiking Half Dome
Faxing is really the best way to get your permit in.  You can fax your permit in 168 days in advance of your reservation.  So, if I am submitting for a hike that begins on August 1st, 2016, I can fax in my permit before 7:30 AM Pacific time on February 15th.  You'll receive an email (if you provided one on your application) within a few days, so keep submitting for the next days!  If you receive a permit that you will take if it is your only option, you can continue to submit for permits for the rest of your window.  If you get an extra permit, you can call the office and they will release your previous one.
Application Instructions
Let's run through a scenario – this one is fake, but similar to what I'll be doing in less than 10 weeks!  Here's the scenario:
I prefer to hike the entire JMT from Happy Isles to Whitney, but would be okay with a permit from Lyell Canyon.
I have a 2 week start window from 8/1/16 to 8/14/16 and will be hiking for 21 days.  I've decided if I start at Lyell Canyon, I'll spend 20 days on the trail and take a few extra rest days.
I have one person who I will absolutely be hiking with, but one person who wants to go but won't be hurt if he isn't included.  He also doesn't want to hike Half Dome.
I want a Half Dome permit, but will take a permit without it.
If I'm starting at Happy Isles, I'll camp my first night at Sunrise Lake.  If I start at Lyell Canyon, I'll camp at the Lyell Forks Bridge my first night.
I want to start hiking on August 1st, so using this table, I find that I should fax in my permit early on February 15th.  I live in the Central Time Zone, so I need to fax it by 9:30 AM on the 15th.  I'll walk through how to fill out each portion of the PDF form.
At the top of my permit, I will include my first choice trailhead and second choice trailhead.  My exit date is the day I'm completely leaving the trail, not the day I'm leaving Yosemite.  I don't see a purpose in adding a second trailhead from Happy Isles to your permit, because there are 20 permits total for them.  These four trailheads are:
Happy Isles pass through (camping outside of Little Yosemite Valley on night 1)
Happy Isles to Little Yosemite Valley (camping in the Valley on night 1)
Tenya Lake/Sunrise Lake (cuts off the first ~10 miles of the JMT)
Glacier Point (adds a few miles to the JMT)
Next, I fill out group information.
I have requested 3 people, but am okay if I just get 2.  I don't have any stock, and this isn't an organized trip.  I have 2 people who want to hike Half Dome, but am okay with not having that on my permit.  The most important piece for JMT thruhikers is to say that yes, I am exiting via Donohue Pass.
Finally, I get to my Trip Leader Information.  I add my demographic and payment information, and it lets me know what my fees are.
Let's say I get a permit out of Lyell Canyon starting on August 10th for two people.  I can continue to submit for my first choice permit until my start window closes.
Likelihood of Getting A Permit
First, let's be realistic here – many people who would like to get a JMT permit won't get one.  There are stories of people who have tried to get permits for months who are unlucky enough to get nothing, and stories of people getting a permit on their very first try.  According to Yosemite's website, they receive 300-500 permit requests every day (600 on busy days), and 80-90% of them are for the John Muir Trail.  That means, even on an ideal day with 300 permits requested for the whole park, you have about an 15% chance of getting one of the 35 reservable Donohue pass exit permits, or an 8% chance of a Happy Isles permit.  During more popular days, the odds of getting a Happy Isles start permit is about 4%.
We've got a backup trip planned (and a plan C if we don't get our backup too…), but if you're flexible, you can try to submit for permits further down the trail, go northbound, or try for one of the walkup permits.
Resources